LOMBOSCO ACADEMY
Where stars shine brightly each day!
With sheer commitment and with God's succor, we are getting stronger... transcending all the challenges we face. LOMBOSCO ACADEMY was founded in year 2000 as a Tutorial Center first, then burgeoning into a new Pre-school in the heart of Katarungan Village, Muntinlupa City and then a year later into a young grade school due to the demands of parents in the village.
It takes more than smooth words and slick ideas to manage a school. All these years, heralding the Vision and Mission of the Academy, people trust us.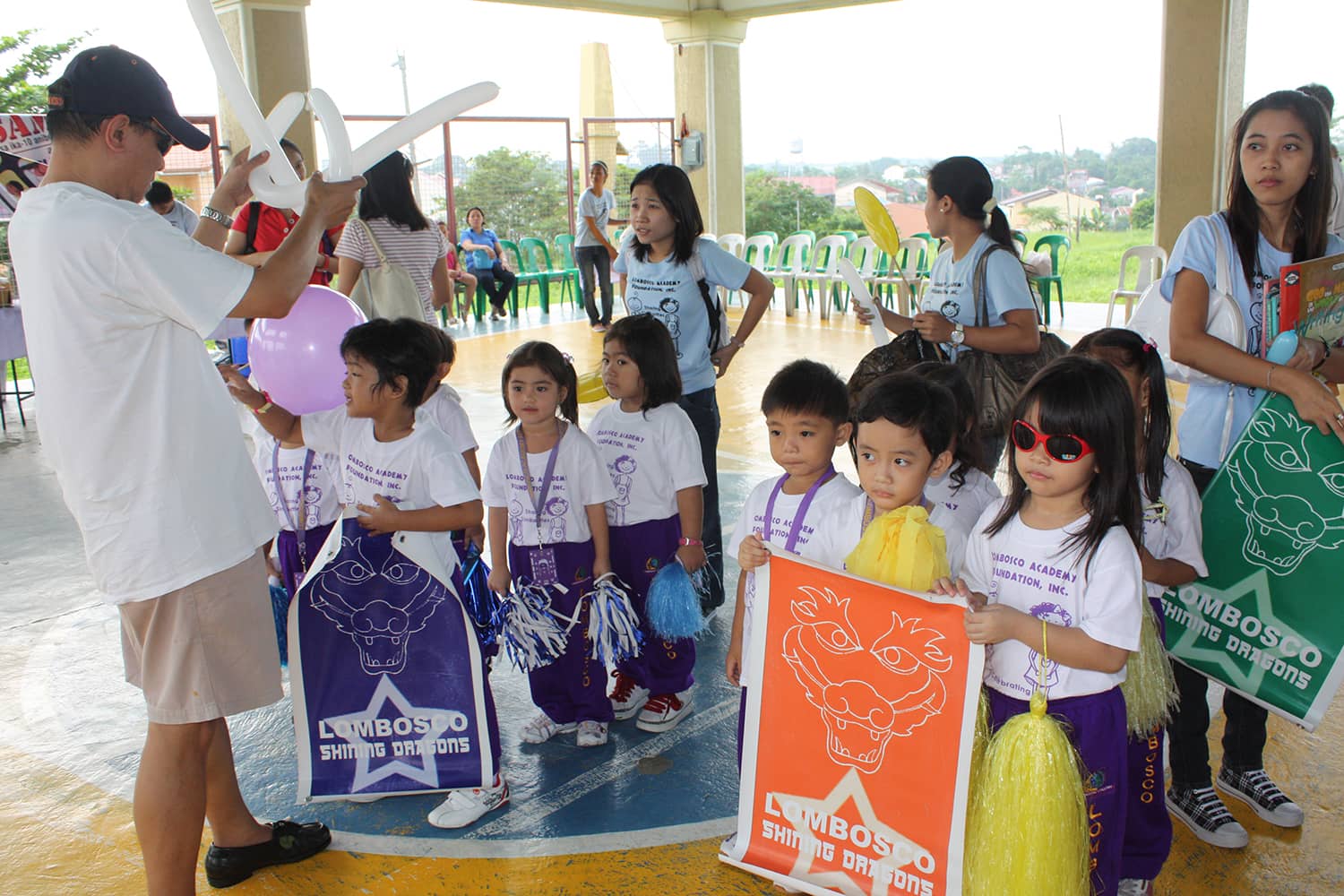 OUR ACTIVITIES
OUR BEST SERVICES FOR YOUR KIDS
English Speaking Campaign
Our pupils are encouraged to speak in English the moment they enter the school until dismissal.
Math, English, Science Reviews
It's a freebie: the pupils go through extended workshops to prepare them for high school entrance exams and the National Achievement Test (NAT).
Spiritual Growth & Development
Formation and education are core pillars for Lombosco. Christian Living instruction and receiving sacraments help them grow in God's love.
Educ Tour and Larong Pinoy
There are a lot more things learned outside the classroom. Pupils have fun during educational tours and Larong Pinoy.
Showcase of Talents
To balance their life and learning, pupils are given the opportunity to showcase their talents - Exer-Sayaw, singing, art, acting, etc.
Community Support
Lombosco is committed to extend assistance to the community through outreach programs, recycling and clean-up drive and granting scholarships.
15
Teachers & Staff
All well-trained to offer quality education and formation to pupils.
132
Pupils
Children enjoy fun-filled learning, building close ties with their peers.
9
Classes
In our ClassHomes, favoritism and bullying are not acceptable.
10
Teacher-Pupil Ratio 1:10
Small class size makes a big difference.
ALUMNI HOMECOMING IN 2018
Our True Marks of Success
Umberto Lombos, BSE, CPM, MBA, CPA, CMA
Founding President
● Chartered Professional Accountant / Certified Management Accountant – Gustavson School of Business, The University of Victoria, BC, Canada
● Founder / VP Operations – Friends in the Heart of Jesus Foundation Society, Vancouver, BC, Canada
● Master in Business Administration – International Academy of Management & Economics, Philippines
● Certified Medical Device Reprocessing Technician – Vancouver Community College, Vancouver, BC, Canada
● Certified Professional Marketer (CPM) – Asia
● Certified Bookkeeper- National Certification Level III – Philippines
● Bachelor of Science in Education – Physics and English; Philosophy Don Bosco College, Philippines
● MA Units in Education (Guidance & Counselling) – De La Salle University Manila and University of Santo Tomas
● Diploma in General Business Accounting, USA
● Diploma in Computer Information Systems, USA
● Passer- California Basic Educational Skills Test, USA
● Professional Secondary Teacher – PRC Licensed, Philippines
Engr. Noe D. Enriquez, BSIE, PIE, MBA, ASEAN ENGR.
Acting President | VP Internal Affairs
● Intellectual Property Management Course  – World Intellectual Property Office (WIPO) Academy, Geneva, Switzerland
● ASEAN Engineer – ASEAN Federation of Engineering Organizations (AFEO)
● Master in Business Administration – Ateneo Graduate School of Business
● Bachelor of Science in Industrial Engineering – Adamson University
● Doctor of Philosophy in Business Finance (Units) – University of the Philippines Diliman
● Director of Institutional Planning and Policy Development Office – Adamson University
● Chairman of Industrial Engineering Department – Adamson University
● Associate Professor of Industrial Engineering Department and Graduate School – Adamson University
● Was a Senior Strategic Facilities Planner– Intel Philippines Manufacturing, Inc.
● Was a Senior Industrial Engineer – Integrated Manufacturing Inc. (IMI)
● Board Member & Treasurer – Philippine Institute of Industrial Engineers (PIIE)
● Diploma in Supply Chain Management – De La Salle College of Saint Benilde
● Professional Secondary Teacher – PRC Licensed, Philippines
● Medal of Merit for Academic Excellence and Social Involvement
Luz Enriquez-Lombos, BSE, MAED
Academy Directress | COO
● Master of Arts in Education, major in Language & Literacy (Non-Thesis) – University of the Philippines
● Bachelor of Science in Education – Religious Education & English
● CUM LAUDE
● Professional Secondary Teacher – PRC Licensed, Philippines
● Civil Service Eligible
● Master of Educational Management (Units) – De La Salle University Manila
● TESOL – De La Salle University Manila
● Diploma in Child Psychology
● Diploma in Food & Beverage Management
● Certificate in Smart Reader Worldwide Training (Grand Slam Winner Smart Reader Competition)
● Shortlisted to the "Top 20 Principals" of the Philippines
● Poem and Song Composer
● Children's Book Author – "Ang Tinago Kong Piso" (Bilingual)
● Nominated 2013 Bayaning Filipino Awards
● Member of International Reading Association and Reading Association of the Philippines
● Member of Canadian Child Care Federation
● Member of Association for Childhood Education International, USA
● Literacy and Language / Environmental Advocate
Rey D. Enriquez, BS, MS
Founding Associate | VP External Affairs
● Master of Science in Teaching, major in Mathematics – De La Salle University Manila
● Bachelor of Science in Mathematics – Adamson University
● Mathematics Topnotcher – College Graduating Class
● Chairperson – Mathematics Department, Piedmont Hills High School, San Jose, CA, USA
● Fully Credentialed Math Instructor – State of California, USA
Anisia Datu-Enriquez, AB, MA
Founding Associate / VP Human Resources
● Master of Arts in Guidance & Counselling – De La Salle University Manila
● Bachelor of Arts in Psychology – De La Salle University Manila
● Units for Early Education Development (2012-2014) – San Jose City College
● Working as a Preschool Teacher – Discoveryland Milpitas
● Guidance Counsellor
"Lombosco Academy was the place where my 2 children learned not only the strong academic foundations but also the very important lessons and the good character traits they could bring wherever, whatever path they might choose in life."

Mrs. Geraldine Sulapas

Parent

"Lombosco Academy will always have a special place in our hearts. It has been our partner in honing our children to learn well and be disciplined in the process. From the teachers to the non-teaching staff, everyone exerts extra efforts to make learning for the children fun and worthwhile."

Mrs. Cecille Cipres

PARENT

"I value the things that the academy was able to give us. Besides the academic gain, I value the good manners and ethics that my son learned from it, to mention – the acceptance, understanding and patience they showed towards my son and most of all, for loving and caring for him as a parent does to a child."

Atty. Karen Baldonasa

Parent